Door knob / lever set
S Series Lockset by Arrow
Model: Grade 1 S Series Residential Doorknob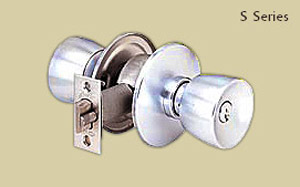 Arrow S Series – Standard Residential Doorknobs
Call us <%=defaultTollFree%> for unbeatable prices on sales and instalation of residential doorknobs like the Arrow S Series lockset.
Benefits
|
Uses
|
Technical details
|
Colors
|
Warranty
Item Description
The S Series Grade 1 lockset by Arrow lock company is a durable, beautifully crafted doorknob and lock mechanism especially made for use in marine environments and sea-side dwellings.
- Top shelf lockset made of completely non-corrosive stainless steel, the S series will keep you safe for years.
- Tough non-corrosive components designed especially for marine applications and humid areas such as beach front properties.
Backset
Standard backset is 2-3/4' (69.85 mm)
Door Thickness
Suitable for doors that are 1-3/8' (34.925 mm) to 2' (50.80 mm) thick.
Latch
Solid Brass with a 1/2' (12.7 mm) throw. The latch housing is constructed from stainless steel, the bore must be drilled 1' (25.40 mm) at the door`s edge.
Lock Chassis
Standard 2-1/8' (53.97 mm) bore drilled through door. The lock is made of stainless steel and will not rust.
Latch Front
Solid stainless steel with as 2-1/4' (57.15 mm) x 1-1/8' (28.57 mm), or 2-1/4' (57.15 mm) x 1-1/8' (28.57 mm) full radius.
Strike: Made of 100% stainless steel with a marine strike that measures 2-3/4' (69.85 mm) x 1-1/8' (28.57 mm), it has a full radius and a 7/8' (22.225 mm) 'lip to center' dimension.
Cylinder, Standard: Six pins in the solid brass cylinder, utilizing Arrow`s standard 'A' keyway. The keyway can easily be masterkeyed, grandmaster, or construction keyed and comes with 2 six pin keys.
Bright stainless steel. satin stainless steel
1 year limited warranty