Door knob / lever set
X SERIES-FALCON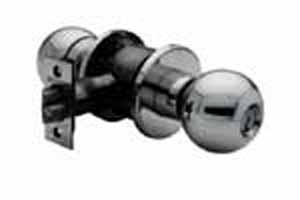 LOCK FEATURES:

· Door Thickness: 1-3/8' to 1-7/8' doors. Locks for thicker doors also available.

· Backset: 2-3/4' standard. 3-3/4' and 5' also available.

· Mechanism: Parts constructed of brass or cold formed steel, zinc plated and dichromated for rust resistance. Springs are stainless steel. X Series available with all internal parts of stainless steel or other nonferrous materials.

· Attachment: Locks secured to door by threaded collars. Inner collar tightened by special wrench furnished with each lock. Outer rose contains locking plate to prevent unauthorized removal.

· Handing: Specify hand of door when ordering. Field reversible.

· Cylinders: Drilled with 6 pin chambers, pinned in 5. Pinning in 6 chambers available when specified,at no cost. 7 pin cylinders available in Hana design. Cylinder assemblies removable to rekey or change hand of lock. Also available with 6 or 7 pin interchangeable core cylinders –Elite and Troy designs. Cylinder housings and plugs machined from solid brass. Springs are phosphor bronze. Two nickel silver keys furnished standard.

· Keyways: "G" keyway standard on standard cylinders. "A" keyway standard on I/C core cylinders. Also available with some optional keyways.

· Trim: Roses are heavy wrought brass,bronze or stainless steel, installed over wrought steel reinforcing plates. Knobs are brass, bronze or stainless steel secured by a steel knob retainer, which cannot be depressed when lock has been locked.

· Latches: 1/2' bolt projection, UL Listed. Standard latch faceplates 2-1/4' x 1-1/8' with square corners to accommodate beveled or flat front doors. 3/4' projection, UL Listed latch with 2-3/4' backset also available.

· Strikes: 4-7/8' x 1-1/4' ANSI strike with curved lip to meet ANSI A115.2 standard doorframe preparation standard. Consult Options and Accessories section for other strike sizes and configurations.

· Screws: Furnished with combination wood/machine screws for use in wood or metal doors and frames.