Door knob / lever set
8/9 Models by SARGENT
Model: Sargent Grade 1 High Security Locksets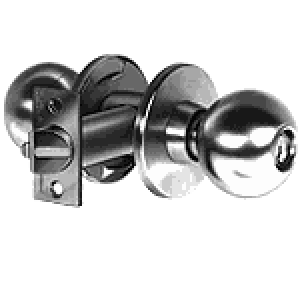 8/9 Lockset Models by SARGENT
Tough grade 1 Sargent locksets like the 8/9 models sold and installed by our local Miami locksmithThe 8/9 Line is ideally suited for:
· High Traffic Areas
· Hospitals
· Commercial Buildings
· Marine Grade Applications (9 line)
Features:
· tough T-Zone construction with interlocking latch and aligning tubes.
· Fits doors from 1 and 3/8 inch (35mm) to 1 and 3/4 inch (44mm) thick standard and up to 6 inch (152mm) thick on request (31 Prefix).
· Reversible latchbolts that are self-adjusting to most door bevels and available in 3 standard backsets.
· Compatible with Sargent standard, high security and removable core cylinders.
· Incorporates stainless and non-ferrous alloy components for corrosion resistance (9 line).
· Enhanced strength, durability and security. Ensures accurate alignment, smooth operation and reversibility of the lock without disassembly of knob and cylinder.
· Maintain and expand master keying systems. Versatility for multiple levels of security.
· Effective against a broad spectrum of bacteria, mold and mildew (Patent Pending).